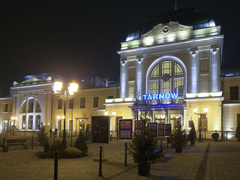 Monumental structure of Tarnów's main train station was built in the years 1906-1910 in Art Nouveau style (known also as "Secession style" especially within the Austria-Hungary territory) and then thoroughly renovated in 2010. Interiors of the building resemble the interiors of elegant hotels from the turn of the 20th century. Recent renovation works were carried out with a great precision and attention – just to mention that investor needed to import floor tiles from England and paving bricks from Italy to restore original look of the structure. Together with renovation works the whole square in front of the station was rebuild. It was paved with porphyry and basalt stones and new, stylized, street lamps were installed.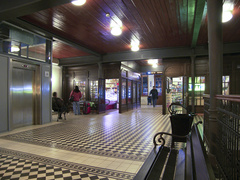 The main train station witnessed some crucial moments in Tarnów history. In 1914 volunteers from Tarnów set out to join Polish Legions which later fought to regain independence for Poland, commanded by Józef Piłsudski – the Father of the Nation. In 1929, train with the remains of Army General Józef Bem arrived and hundreds of citizens of Tarnów together with state officials paid their last respect to this ingenious commander and national hero of Poland and Hungary. On August 28th 1939, a bomb, hid in a left luggage office by a terrorist trained by Germans, exploded killing 20 people and injuring 53 others. Another WWII episode regards the prisoners of KL Auschwitz. First of the transports of prisoners delivered to that death camp was sent from Tarnów on 14th of June 1940.
After the renovation works the station remains the biggest of the train stations east of Kraków, and became the most beautiful in Poland.