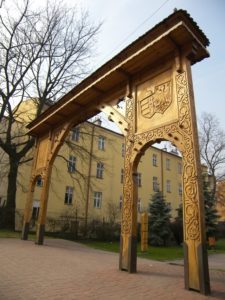 The Sekler's Gate of Joseph Bem and Sándor Petőfi is a gift of the Hungarian Irott Szo Foundation and the city of Sepsiszentgyőrgy for Tarnow. It is the second gate of this kind in Poland – the other one is in Stary Sacz. The day of its opening, 26 May 2001, is linked with the 170th anniversary of the Ostroleka battle – one of the battles of the November Insurrection in Poland, in which General Bem participated.
The term Sekler (siculi) means, at the same time, people, nation and a mission of protecting the south-eastern borders of the Kingdom of Hungary. The Seklers live in territories furthest east in the Carpathians. They played an extremely important role in the history and intellectual life of the Hungarians. The medieval autonomy of Seklers and their military democracy were unique and similar organizations did not appear in the feudal Europe. Up to the 14th century the term Seklers – siculitas – meant gentry. Carved Sekler gates substantiate an unusual folk consciousness. They were usually made of various kinds of good quality oak wood, sometimes pine wood.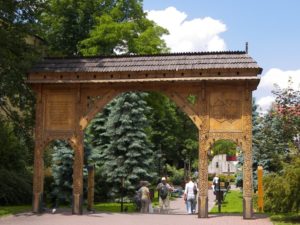 Their constructions resemble European carpentry techniques, however the arrangements of ornaments and decorations reflect a completely different style and originate from the times before Magyar conquer. The tradition and hospitality of the Seklers keep the gate permanently open for both the happy and unhappy. Similarly open are the Seklers' philanthropic hearts, which is expressed by the inscription saying: "Peace to those who enter, blessing to those who exit".