BY PLANE:
Local airstrip (for small aircrafts): Tarnow, ul. Lotnicza
www.facebook.com/aeroklub.tarnow/
The nearest international airports:
KRAKOW AIRPORT – 90 km
www.krakowairport.pl
You need to get to Krakow first and then continue by train or coach .
RZESZÓW INTERNATIONAL AIRPORT – 90 km
www.rzeszowairport.pl
Getting to Tarnów:
There are no direct connections to Tarnów, therefore you need to get to Rzeszow first, and then continue by train or coach .
Visit Flightnetwork for the best flight options to Krakow 

BY CAR:
Tarnów is located 80 kilometers East from Krakow, along A4 Motorway. Traveling from south or north of Poland take the route 73.
 Distances to Tarnów from:
 Krakow Airport: 90 km
 Kraków (Cracow): 80 km
 Wieliczka: 70 km
 Warszawa (Warsaw): 298 km
 Częstochowa: 200 km
 Rzeszów International Airport: 90 km
 Rzeszów: 80 km
In Poland there is a toll on motorways (A1, A2, A4 and A8). These tolls are collected using two systems:
open system: The tolls are collected at toll booths situated on motorways. The toll depends on the type of vehicle.
closed system (e-TOLL system): The tolls are collected at toll booths situated on access roads, on junction roads and additionally on the final sections of motorways. The toll depends on type of vehicle and distance covered.
About e-TOLL
e-TOLL is an advanced solution developed, implemented, maintained and monitored by the Head of the National Revenue Administration, with the toll collection functionality for vehicles driven on toll sections of roads in Poland under the management of the General Directorate of National Roads and Motorways.
It is based on the Global Navigation Satellite System for user position location with the use of virtual gates.
Every user of a vehicle with maximum authorised weight exceeding 3.5 tonnes can choose the most convenient method of transmission of location data to the system: via a free application installed on their mobile device; via an external location system, factory mounted in their vehicle (ELS); or using On-Board Units (OBU).
System users can use the free app for paying electronic toll and for handling the obligations of sensitive goods carriers in SENT-GEO.
Access to the location data transmission devices is based on an open on-board unit (OBU) and external location system (ELS) distribution and sales model, with an extensive choice of legal options, e.g. involving a deposit, sale, or rental. Hence, an OBU or an ELS can be obtained on free market terms. More: https://etoll.gov.pl/en/
Controlled/Restricted Parking Zone
 The center of Tarnów is an area where all on-street parking is controlled. To park your car within the zone you need to pay and display. The zone is limited by the following streets:
 Narutowicza – Konarskiego – Dąbrowskiego – Kołłątaja – Starodąbrowska – Słoneczna – Sitko – Słowackiego – Nowy Świat – Solidarności – Szujskiego – Szkotnik – Mościckiego – Pułaskiego – Krakowska.
The pay and display applies also to Dworcowa (near train & coach stations) and Kościuszki streets (from Pułaskiego street to Reymonta street).
The pay and display machines accept coins and credit/debit cards (Chip & Pin or contact-less card). Tickets are valid for a given time. Overnight parking (from 4 p.m. until 9 a.m.), weekends and holidays are free of charge.
The following charges apply:
60 minutes: 3,30 zł
two hours: 7,20 zł
three hours: 11,80 zł
every hour over 3: 3,30 zł
Park & Ride
1. ul. Do Huty (south of the Tarnów Train Station). The P&R is connected to the concourse and platforms by pedestrian tunnel. Parking fee is 5 zł/24h. 
2. ul. ks. J. Marszałka (north of the city center, free). 
BY TRAIN & COACH: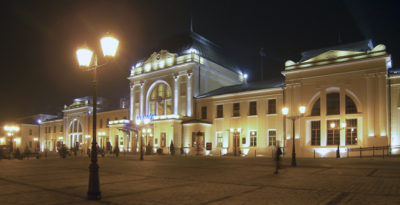 Tarnów is easy to reach by public transport from across Poland. There are regular rail services to most of the major cities, including Krakow and Warszawa.
Average travel times for services from Tarnow:
to Warszawa – from 3:08 h (Express InterCity trains) to 5:00 h (trains and coaches)
to Krakow – from 0:48 h (Express InterCity trains) to 1:15 h (trains SKA 3) and 1:25 (coaches)
to Rzeszow – 1:20 h (trains); 1:25 (coaches)
Online timetables in English:
www.pkp.pl (trains only)
www.portalpasazera.pl  (trains only)
www.e-podroznik.pl (trains and coaches)
To check all your bus and rail options from across Poland and the rest of Europe, visit GoEuro .
The fastest railway connections to Krakow, Warsaw and the Trójmiasto (Tricity: Gdańsk, Gdynia, Sopot).