Inclusion of the Kraków Republic into the Habsburg Empire in 1846 brought about an idea of connecting Kraków with Lvov by a railway. Work begun and in 1853 a rail connection between Dębica and Bochnia was finished, however Kraków was not a part of this line. Beginning of the Crimean war in the same year, and subsequent tensions between Austria and Russia, forced the Viennese government to rationalize transport in Galicia.
Official opening of a railway running through Tarnów, took place on the 20th of February 1856.
Press from that time informed about the progress in laying tracks as well as the beginning of work on the construction of a temporary railway station and train service buildings. Construction of permanent train station buildings most likely began in 1860. Unfortunately there is no way to reconstruct the exact look of the building, although it was most likely erected according to a functional plan, which would be composed of an atrium, a vestibule with ticket counters, waiting rooms, separate for different travel classes and a restaurant. Within the rail station a baggage ticket counter, a post office and railway offices could also be found. There was a characteristic lack of connections between different parts of the train station, most significantly no direct access to the platform from the vestibule. The railway station served travelers for over 40 years, during which the number of travelers significantly increased.
In 1906 construction of a new, larger railway station began. The building was designed by, today unknown, architect, E. Baudisch. Four years later it was finished. Size of the station more than doubled and the projection of the building was extended by moving it along the tracks and extending the northern facade. A lot more space for travelers was gained and a new post office building was added. Unlike the previous station, low and long, the new building, full of vertical elements, began to tower over the surroundings and the whole structure was complemented with secession-modernistic décor. It was a building tailor made for a fast developing city.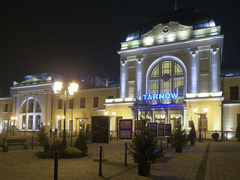 The design was based on the Lvov railway station. Additionally, the first and second platforms were equipped with roofs placed on cast iron columns, and after 1909 both platforms were connected by an underground passage.
On the 28th of August 1939, Tarnów Railway station was shocked by a bomb explosion. The bomb was placed in the railway station by German saboteurs. Twenty people were killed and 35 were wounded. In order to remember this event, a commemorative plaque was place on the right side of the main entrance, another plaque commemorating the first transport to the Auschwitz Concentration camp, was placed on the opposite side of the entrance in 2005.