First known burial in the "old" cemetery, located on the corner of the Tuchowska and Narutowicza streets, dates back to 1791. At first the cemetery served as a burial place for poor people, although the gravestone of Princess Maria Anna of Lubomirscy Radziwiłłowa, a wife of Prince Karol called "Mr. Lover", comes from that time period. She left this world here in Tarnów in 1795, although the Latin gravestone inscription has a mistaken date of 1792. Its visible right next to the cemetery gate, on the left side of the avenue. In front of the Sanguszko chapel there is a gravestone of Tarnów's first bishop, Florian Amanda Jankowski, with life size sculptures of: Jesus in a laying position and standing depictions of Joseph and Nikodem.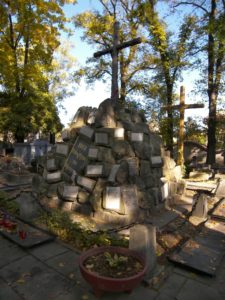 In the southern part of the cemetery, on the left side of the avenue a beautiful headstone of Rufin Piotrowski can be found, he died in Tarnów in 1872. He was a participant in the November uprising, emigrant in France, a runaway from the Siberian exile and an author of, translated into a dozen or so languages, "Diaries from my stay in Siberia". Right behind it rises a memorial in a shape of a stone mound topped off with a cross. This is a grave of freedom fighters from the January Uprising, funded from collection of contributions in 1891. Not far from there in the Honored Quarter, there is a monument to the victims of Rabacja from 1846 with a list of names as well as graves of legionnaires and soldiers fallen in World War II. There are two chapels in the cemetery. First one is the St. Joseph's chapel, erected in 1805 it belonged to the Radzikowski family and stands next to the cemetery wall on Tuchowska street. Second chapel located in the center of the cemetery belongs to Sanguszko Princess. It was build in 1870, inside we will find beautiful sculptures of Antoni Madeyski, depicting Prince Władysław Sanguszko and Prince Roman Damian Sanguszko, made in 1905 and 1924.
For those interested in finding out more about the cemetery there is a several volumes long guide to the cemetery written by Antoni Sypek and several studies written by Stanisław Potępa.