Jan Szczepanik was born on 13 June, 1872 in Rudniki village near Mościska. After his mother's death, he was brought up by his aunt Salomea Gradowicz.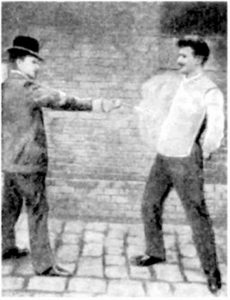 Szczepanik completed primary school in Krosno and continued his education in a high school in Jasło, where he excelled in mathematics and nature studies. Then he moved to Kraków, where he graduated a college for teachers. His first job as a teacher was in Potok near Krosno, he later worked as a teacher in Lubatówka and Korczyn. While a teacher he spent more time with his students on tinkering than actually teaching them in accordance with accepted methods of the time.
In 1896, he left his teaching post and moved to Kraków. There he rented and apartment in which he conducted various technical experiments, because while teaching he was already interested in color photography and inventions in the area of weaving.
He was a hard-working person, frequently referred to as a titan of work. At the beginning of the XX century Szczepanik lived in Vienna, where he had his work shop frequently visited by industrialists from all over Europe.
In 1902, he married, in a Tarnów Cathedral, a 23 year old Wanda Dzikowski, daughter of Tarnów County doctor, Zbigniew Dzikowski, whom he met during his military service in Przemyśl. After the wedding Szczepanik moved to Tarnów. Here he lived on Sowińskiego street, later on at 11 Szopena street, in a characteristic and existing till this day tenement house which belonged to his father in law. In this building he arranged his workshop.
During the Great War 1914-1918, industrialists from central countries, especially those from Germany were very interested in Szczepanik's inventions. After Poland regained its independence "Polish Edison" worked mainly on the idea of a colored film with sound. Through out the 7 years of free Poland Szczepanik divided his time between Tarnów and time spent with his family and German cities, mainly Berlin where Szczepanik's ideas were being put to use.
Unfortunately in 1925 he became ill with liver cancer and on a Sunday afternoon of the 18th of April 1926 he died, at the age of only 54.
He left a great body of work. Among his most famous inventions are discoveries in areas such as weaving, television, photography and colored film with sound, fabrics – including invention of a bulletproof fabric. Some of his inventions, influenced the course of history during his lifetime. For example, his bulletproof fabric most likely saved the life of Spanish king Alfonso XIII, who survived an assassination attempt. In appreciation of this king awarded Szczepanik with a "Medal of the Catholic Isabel".
Szczepanik's funeral did not evoke much interest. At that time concerns about the removal of a commemorative plaque, which was placed under the statue of Adam Mickiewicz, dedicated to unknown soldiers, which died for Poland's freedom in the years 1914-1920, intensified strives undertaken to commemorate fallen soldiers with a monument. Furthermore citizens of Tarnów were captivated by the idea of bringing back to Tarnów, General Józef Bem's remnants, who was to be paid tribute in this manner for another anniversary of his death.
Jan Szczepanik was buried in a Dzikowski family tomb. Up to now, not many people were aware of this place. Creation of the Jan Szczepanik Foundation, activities undertaken by a school which bears his name as well as the unveiling ceremony of Szczepanik's bust, which took place on the 80th anniversary of his funeral, 20th April 2006, should remind people about the life's work of this forgotten inventor.