The tallest Easter palms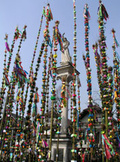 Lipnica Murowana is a small village with preserved Medieval layout,
that is famous for its annual Easter Palms contest.
The palms can reach as high as 30 meters into the air.
The tallest sepulchral monuments in Europe

Massive, over thirteen-meter-tall Gothic-Renaissance sepulchral monument
of Tarnowski family, and a Baroque one of Ostrogski family,
can be admired in Tarnów Cathedral .
The oldest industrial plant in Europe, which has been operating for over 750 years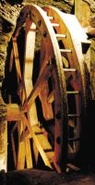 The Salt Mine in Bochnia (registered UNESCO World Heritage Site in 2013) is the oldest salt mine in Poland, older than the one in Wieliczka.
It is the oldest industrial plant in Europe, continuously operating for over 750 years.
For several years now the Salt Mine in Bochnia has been open to the public,
inviting tourists and locals alike into its underground world.
Here they can hike along the winding maze of corridors and chambers,
some over 300 meters long, that have been drilled after years of mining.
The only exhibition in Europe which illustrates the history and culture of the polish Gypsies

The Ethnographic Museum in Tarnów is located in a mansion house
that dates back to the turn of the 18th and19th centuries.
This is the only museum in Europe that maintains a permanent exhibition
on Gypsy history and culture.
Tarnów was for centuries a multicultural town
In the past, people of varying ethnicity like Jews, Germans, Ukrainians, Scottish, Gypsies, and Austrians have lived here for centuries. Each nationality has left an enduring mark on Tarnów through their own unique culture and history, which has gracefully intertwined with that of Poland.
The northernmost part of the Carpathian Mountains
The northernmost hill of the Carpathians is St. Martins Mountain, located within Tarnów's administrative borders.
Tarnów – Polish Capital of Comedy
Each year in Autumn, the Ludwik Solski Theater in Tarnów launches TALIA Festival of Comedy. Entertained by both Polish and foreign theater troupes, the audience laughs to tears.
The biggest monument of king Władysław Łokietek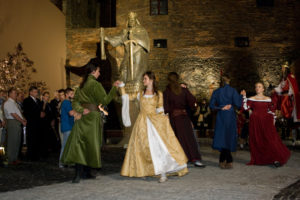 The city has lately received another tourist feature – a 5-meter-high monument of king Władysław Łokietek, who granted city rights to Tarnów. He was also known for his little height. The monument is placed at a charming corner of Tarnów – recently renovated, beautiful square at 7 Wałowa street. In addition, the parts of the old City Walls, which had not been shown before, were unveiled.