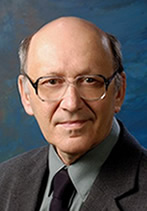 Tarnów is the birthplace of Fr. Michał Heller, Professor in the Faculty of Philosophy at the Pontifical Academy of Theology in Cracow, the first Polish laureate of the Templeton Prize.
Michał (Michael) Heller was born in Tarnow on March 12, 1936. He was awarded the Templeton Prize for Progress Toward Research or Discoveries about Spiritual Realities.
Professor Heller is the graduate of the Major Catholic Seminary in Tarnów and the first dean of Theology Department in Tarnów. He is world-renown physicist, cosmologist, philosopher and theologian. He is an active member of the Vatican Observatory, the Pontifical Academy of Sciences, the Polish Physical Society, the Polish Astronomical Society, the International Society for General Relativity and Gravitation, the European Physical Society, the Center for Theology and the Natural Science. He has published several hundred publications both as the author or co-author. He is the lecturer in the Pontifical Academy of Theology in Cracow.