Henry Rybak, Polish-American businessman and philanthropist, passed away on May 26
Henry Rybak was born in 1954 in Koszyce Wielkie, in a suburb of Tarnów. He moved to the United States in 1980, and eventually settled in northern New Jersey. Henry was a strong supporter of the vibrant community in Garfield and the surrounding areas. He and Maria have sponsored countless schools, churches, community organizations, sports clubs and youth groups, as well as the Pulaski Parade and other cultural events. Henry and Maria have also organized many charity events to support individuals and organizations in need.
In 1991, Henry and his wife Maria were able to fulfill their American Dream by establishing Piast Meats and Provisions. Opening a store that brought the unique taste of Poland to both the Polish and American communities had been their dream for many years.
Already in 2005, Henry received a Gold Medal at The President's Dinner in Washington, D.C. honoring America's Business Leaders.  He was honored with induction into the prestigious Knighthood of the Mother of God of Częstochowa in Jasna Góra, Poland, in 2009. Two years later, in recognition of Henry's stewardship to the Polish-American community, he had the great privilege of representing the City of Garfield as Marshal in the Pulaski Parade. In 2017, he received the Outstanding Polish-American Business Contribution Award from the Bergen County Board of Chosen Freeholders. In 2018, he was honored by the New Jersey State PBA with a Silver Honorary Award for his contributions to the local community.
Henry, you will never be forgotten.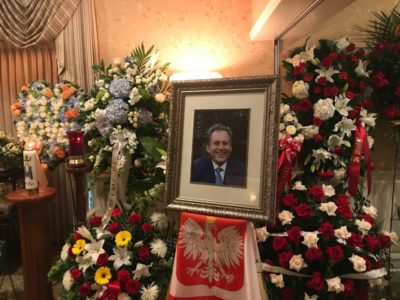 More at: 
https://radiorampa.com/zmarl-henryk-rybak-wlasciciel-sklepow-piast/